WHY CHOOSE US?
Surprise your loved ones with one a of a kind boxed flower creation, designed and handcrafted with our floral specialist and hand delivered for any special occasion...
learn more
CLEAN WITH THE HIGHEST QUALITY
NATURAL OILS
LAST A YEAR
HAND CRAFTED
ALLERGEN FREE
VEGAN
Customer Reviews
Write a Review
Ask a Question
09/19/2022
Natasha F.

United States
Creates a Mood
I am in the process of redesigning my office. In order to inspire my new soft look that will be in shades of black — I made this Rose Forever purchase. It fits the color scheme, looks G-O-R-G-E-O-U-S and it softens up what could be very flat design esthetic …into exactly what I am looking for … luxe and moody. Ordering and shipping was super easy!
We appreciate your effort for taking the time to share your feedback with us. It means so much when our best customers share their experiences.
09/17/2022
Rebecca

United States
Stop and Smell the Roses
I was completely surprised and delighted by my friend with your gorgeous roses. How stunning, how remarkable, how enduring, and they even smell lovely. I have my roses beautifully displayed, and I pick them up to smell them each day. They bring a wonderful smile to my face, joy to my heart, and comfort to my soul. Beauty soothes and nourishes me daily. It is incredible that they are preserved to last a very very long time!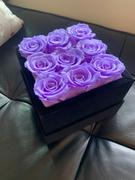 Thank you for leaving us such a wonderful review. We are thrilled that you loved your experience; our team will definitely be happy to read what you wrote. We put customer experience and satisfaction as our priority, and your review reaffirms the hard work we put in every day. So thanks for your kind words and we look forward to seeing you again.
09/16/2022
Patty J.

United States
stunning and life like because real!
pretty amazing. Airing it out right now because of "new" smell.
Thank you very much for your great feedback and good vibes. We're happy that you're happy, and we're looking forward to your next visit :)
09/09/2022
Sandra R.

United States
LOVE LOVE LOVE
Sent them as a gift for my girlfriend's 50th! Wanted her to have something that would last! She LOVES them!
We are glad we were able to meet your expectations! Looking forward to your next visit with us again soon :)
09/08/2022
Olivia S.

United States
Blue Roses
I Sharon, sent the roses to a family member who is recovering from a surgery. The family member is Olivia. She loved them.
We would like to thank you for taking the time to write this review of our roses. Every bit of feedback like this does so much to help us out!