WHY CHOOSE US?
Surprise your loved ones with one a of a kind boxed flower creation, designed and handcrafted with our floral specialist and hand delivered for any special occasion...
learn more
CLEAN WITH THE HIGHEST QUALITY
NATURAL OILS
LAST A YEAR
HAND CRAFTED
ALLERGEN FREE
VEGAN
Customer Reviews
Write a Review
Ask a Question
08/01/2022
Nancy D.

United States
GORGEOUS
Beautiful. I actually use these as birthday gifts now and everyone loves them
We can't thank you enough for the awesome words about our roses. Your review means a lot to us and lets us know we're on the right track!
06/01/2022
Christina D.

United States
Stunning
I Love these roses! They made a stunning display in my home!
Thank you very much for your great feedback and good vibes. We're happy that you're happy, and we're looking forward to your next visit :)
02/08/2022
Marlon C.

United States
Perfect Pre-Valentines gift! - Set of 3 Mini Red
Perfect gift to set the valentines week mood. Gf loved them and can separate them to always have one in different places she likes. Very satisfied with the products and service speed.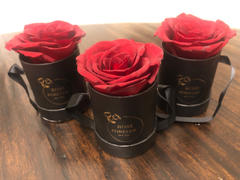 Thanks for sharing your review with us and the community.
12/22/2021
Lea L.

United States
Mini but Mighty
These mini roses are a beautiful set for one person or can even be separated and gifted to three different people. I recommend ordering one color to ensure the colors do not bleed onto one another. They each come in a sturdy round box and are placed close to one another when shipped.
12/01/2021
NICHOLE M.

United States
The perfect gift for my future mother-in-law
Thos arrangement was perfect for my future (now) mother-in-law. I sent them to her as a surprise, so she could place them wherever she wanted. They are the same color roses her late husband grew for her in their garden. It was the perfect thank you gift right before my husband and I eloped (she figured it out quickly) and even posted a beautiful picture of them on Facebook.
Thank you for the wonderful and amazing review. Please do tag us so we can see the roses you received :) We hope to see you purchase with us again soon!