Why choose us?
Surprise your loved ones with one a of a kind boxed flower creation, designed and handcrafted with our floral specialist and hand delivered for any special occasion...
learn more
CLEAN WITH THE HIGHEST QUALITY
Customer Reviews
Write a Review
Ask a Question
08/30/2021
Sondra G.

United States
Ms. Sondra Gassie
I wanted to love this product, but unfortunately it did not rise to the occasion. I ordered a baby blue velvet arrangement because the description and photos looked beautiful and was the exact color of my daughter's dress that she wore on the night she became engaged to her fiancé. I thought what a wonderful way to celebrate and remember her special night. However, when she received the flowers they looked more white and tie-dyed than the elegant bouquet that was in the product advertisement. I contacted the company but was told that flowers look different under different lighting and the best they could do would give me a $10 credit. The ONLY reason I ordered the roses was because of the color…I don't think the bouquet of white with a hint of tie-dyed blue comes anywhere near the advertised product.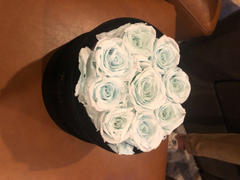 08/30/2021
Richard S.

United States
Great product , delivered as advised . Await the all important reaction in 2 days …!
Thank you very much for your great feedback and good vibes. We're happy that you're happy, and we're looking forward to your next visit :)
08/28/2021
Makayla H.

United States
Just Beautiful
The roses came looking fresh and beautiful as advertised
We'd just like to thank you for taking the time to write this review of our roses. Every bit of feedback like this does so much to help us out!
08/26/2021
Clarke D.

United States
Best gift!
Who wouldn't love a box of roses that last a year! I sent to a friend as a thank you. She absolutely loved it!!
We are so grateful for your kind words! :)
08/25/2021
Kawlapattie R.

United States
Essential black velvet light pink
I really love this arrangement . The black box brings out the pink roses so nicely. It looks elegant . 5 stars all the way . I will recommend Rose Forever to all my family and friends.
Thank you very much for your great feedback and good vibes. We're happy that you're happy, and we're looking forward to your next visit :)